Spartan Duo
Regular price

$69.98

Sale price

$59.99
Save when you buy the set! Score the Spartan Peeler and Spartan Shredder for only $59.99.
Say goodbye to mundane meal prep and hello to effortless culinary mastery. These game-changing kitchen tools will revolutionize your meal prep.
Spartan Peeler: A Cut Above The Rest
Ultra-sharp Japanese steel blades effortlessly peel, slice, and shred any fruit or vegetable that crosses their path. With double-sided serrated blades, you'll breeze through the toughest veggies like a pro. Even delicate fruits, like tomatoes, surrender their skins without wasting any of their juicy goodness. Prepare tomato sauce or canning recipes without the hassle of blanching – our peelers make it a cinch!
Spartan Peeler:
 T
ake Your Kitchen Prowess to New Heights
Create elegant garnishes, professional-looking salads, and paleo-approved zoodles in a flash. With its superior julienne blade and comfortable Y-grip handle, you can bid farewell to bulky gadgets cluttering your cupboards. Whip up a coleslaw masterpiece or shred cabbage and carrots with lightning speed, impressing friends and family with your culinary finesse.
Tackle any recipe with confidence, knowing you have the perfect tools at your disposal.
Lifetime Guarantee

We offer a lifetime guarantee on all breakage, bending, snaping, or general dulling of the blades (within 20 years) on both our Spartan Peelers and Spartan Shredders.

In the unlikely event your Spartan Kitchen tool is damaged, please take a photo of your damaged product as well as a photo of our Spartan logo on the handle and send it to info@spartankitchen.ca.

A teammember will happily help you with your inquiry and getting a replacement product to you.
How To Use

You will only have success with the shredder when the SPARTAN logo – located on the flat part of the handle – is facing up towards you. The safest and easiest way to use the Shredder is to place the vegetable on a cutting board for stability when pulling the blade down on the vegetable.

For best results, press evenly down on the shredder providing even pressure.

Denser vegetables like carrots and beets will need more pressure on the blade while cucumbers and zucchini will need less pressure. Round fruit and vegetables are easiest to shred when a fork is used to hold it in place on the cutting board.

Pro Tip: Imagine holding the vegetable on a flat surface with your non-dominant hand and pulling the blade towards your dominant side. This helps keep your fingers out of the way and allows you to maintain even pressure while using the shredder.
Care and Cleaning

Each peeler is made with a Japanese stainless steel blade - capable of retaining its sharpness for 20 years with proper care.

CLEANING

All Spartan products may be cleaned on the top rack of your dishwasher, although we highly recommend you hand washed and dry all Spartan products to preserve the sharpness of the blades.

STORAGE

Spartan Peelers are the sharpest peelers on the market comparable to a professional chefs' tool. Please use care when using near fingers. When storing, use the safety cap provided. To remove the cap, hold the top and bottom of the cap and just pull it straight off.

When placing the safety cap back on your peeler, use your thumb to place the blade to one side and roll the cap on starting at the top of the blade and work your way to the bottom.

Voila! Now slip it in with your other favourite utensils until the next time you're ready to peel something fun.
Share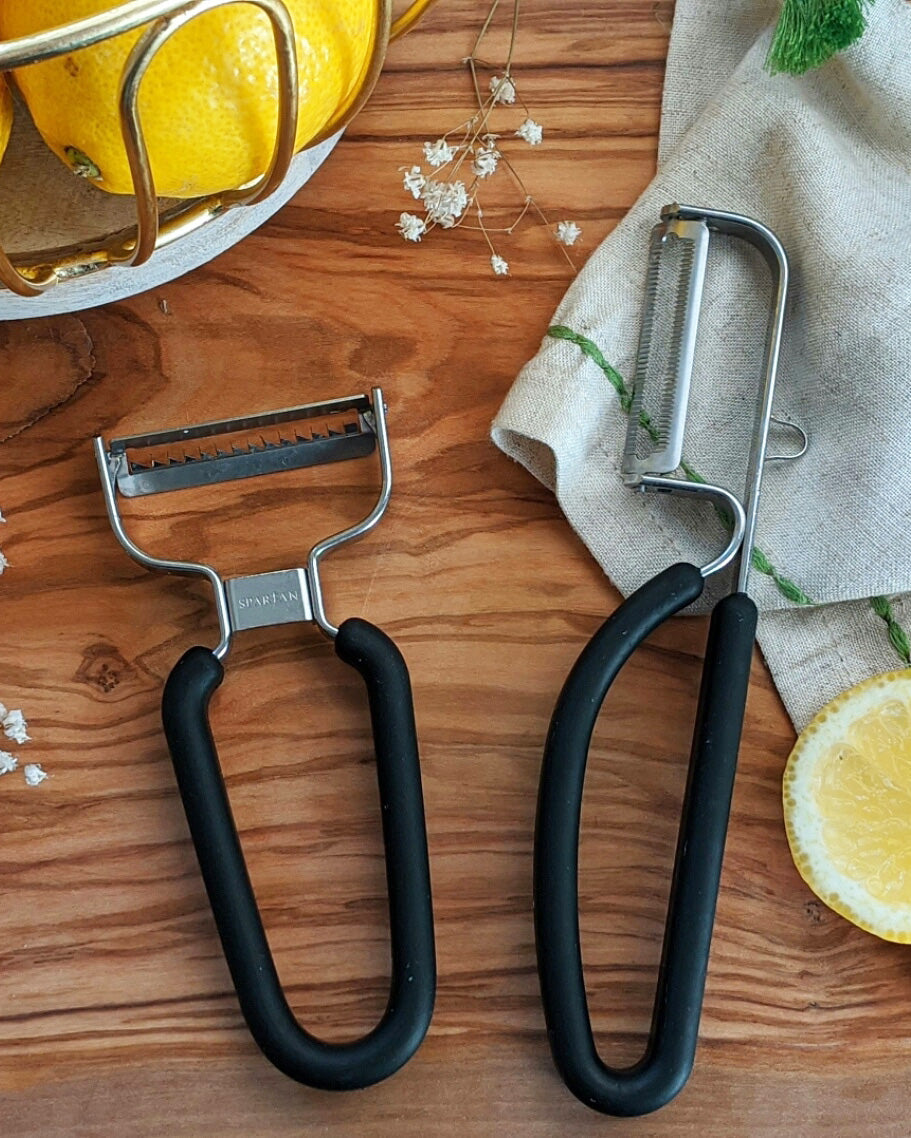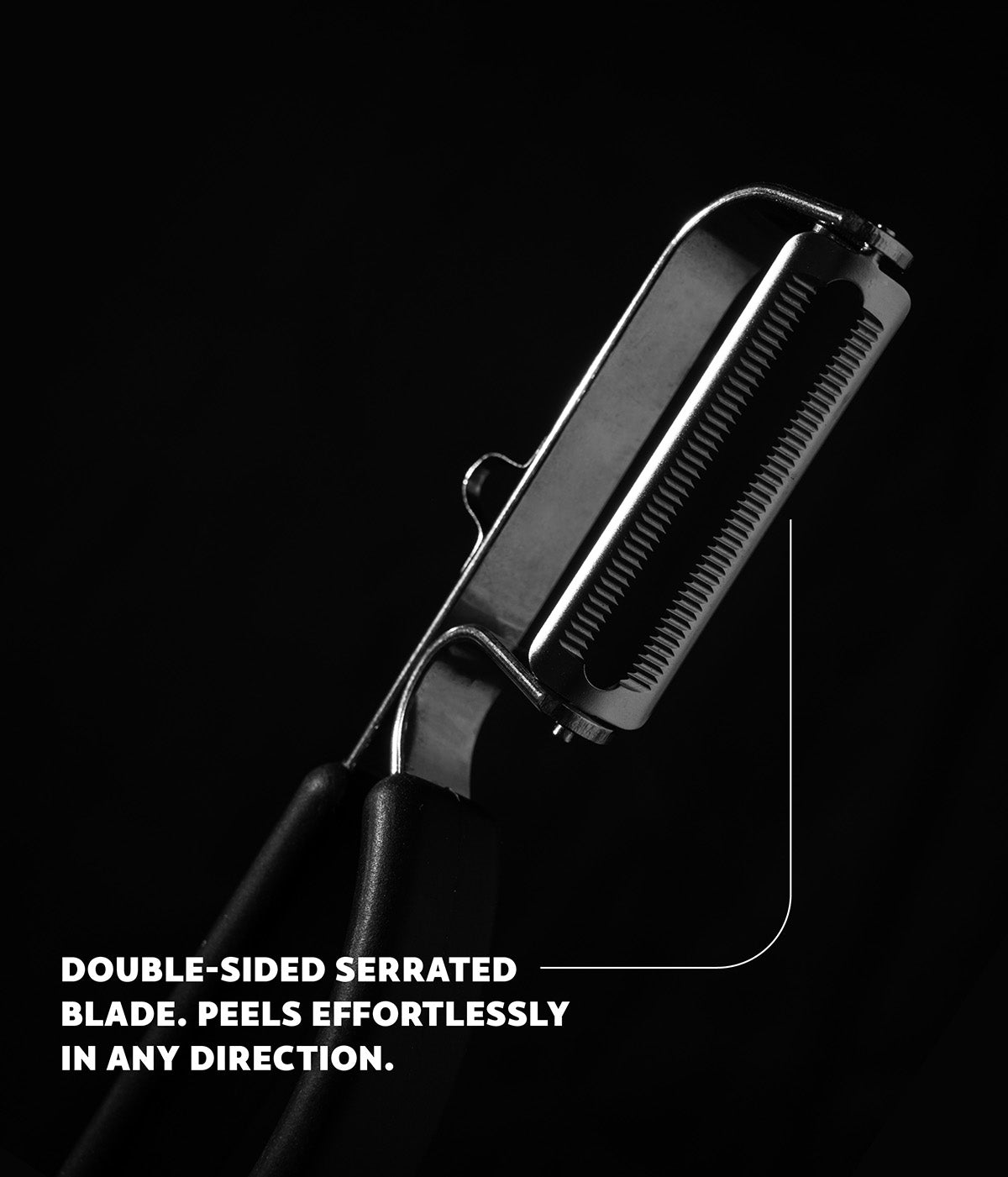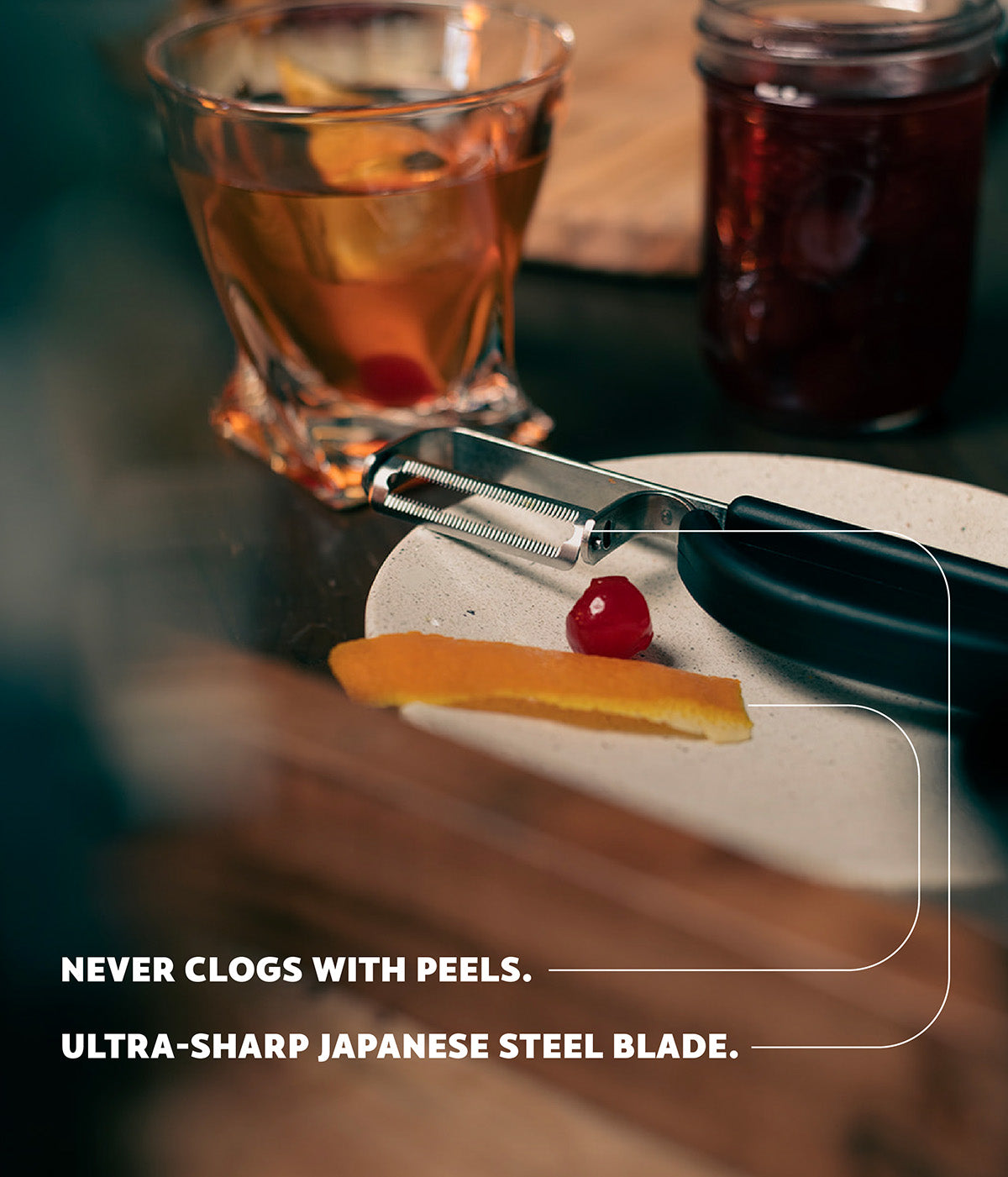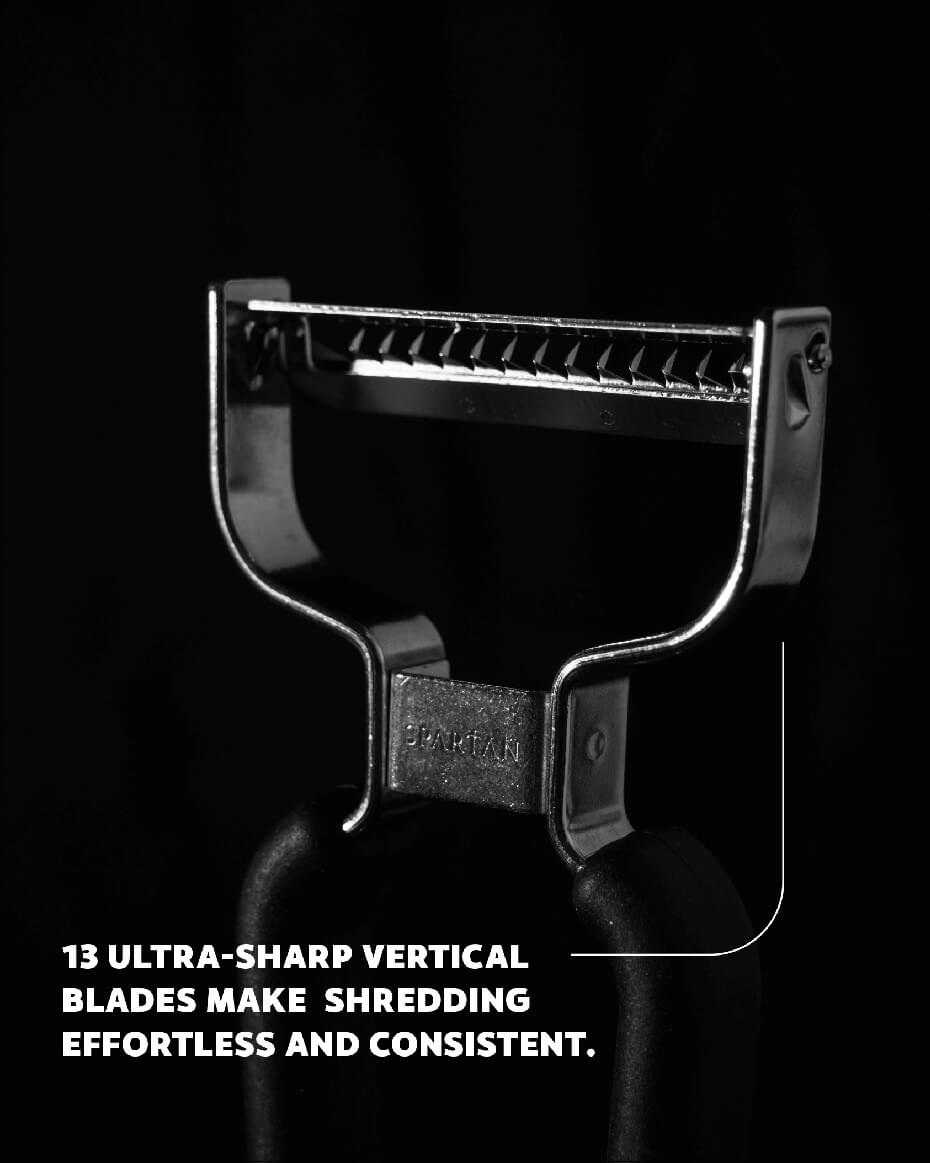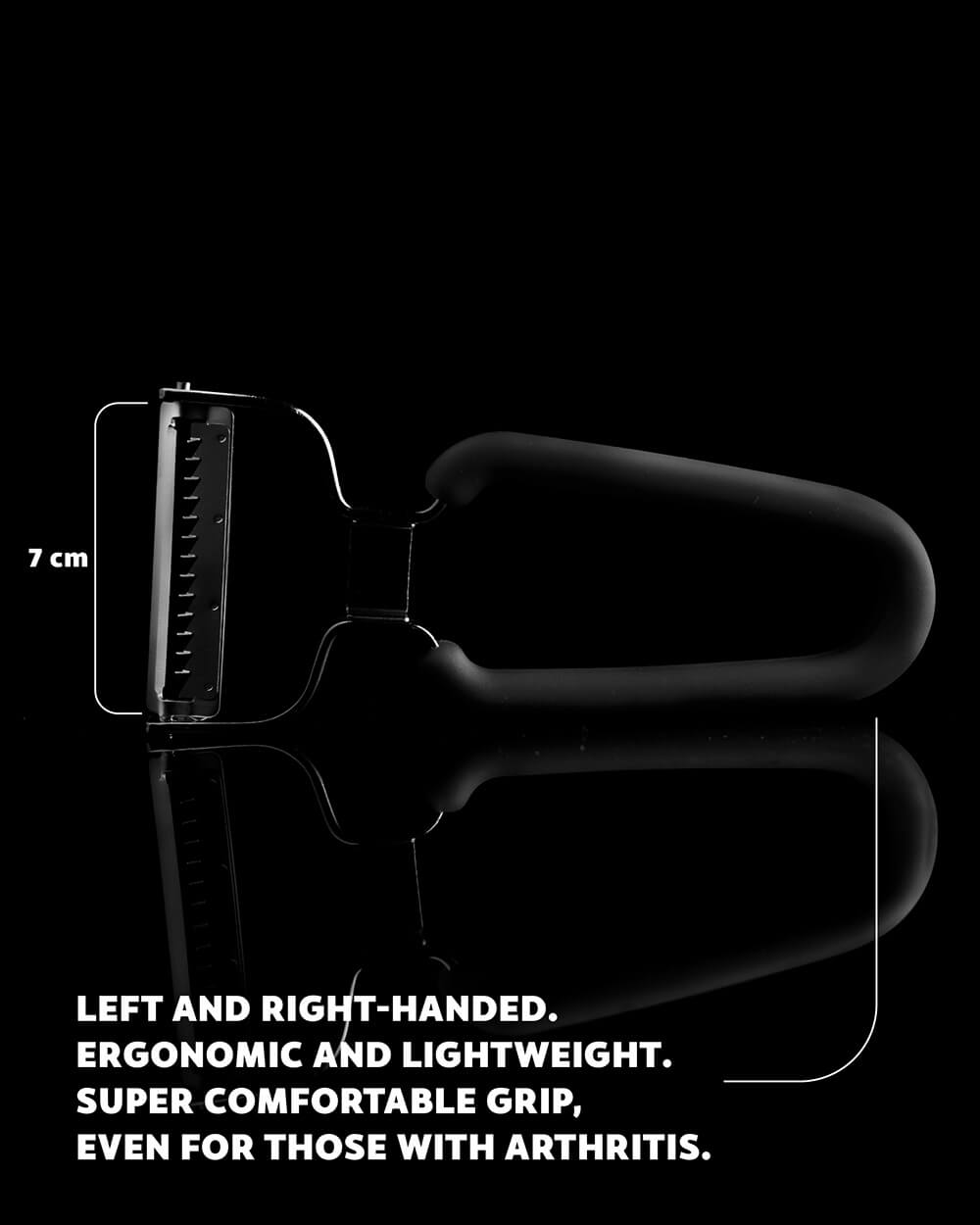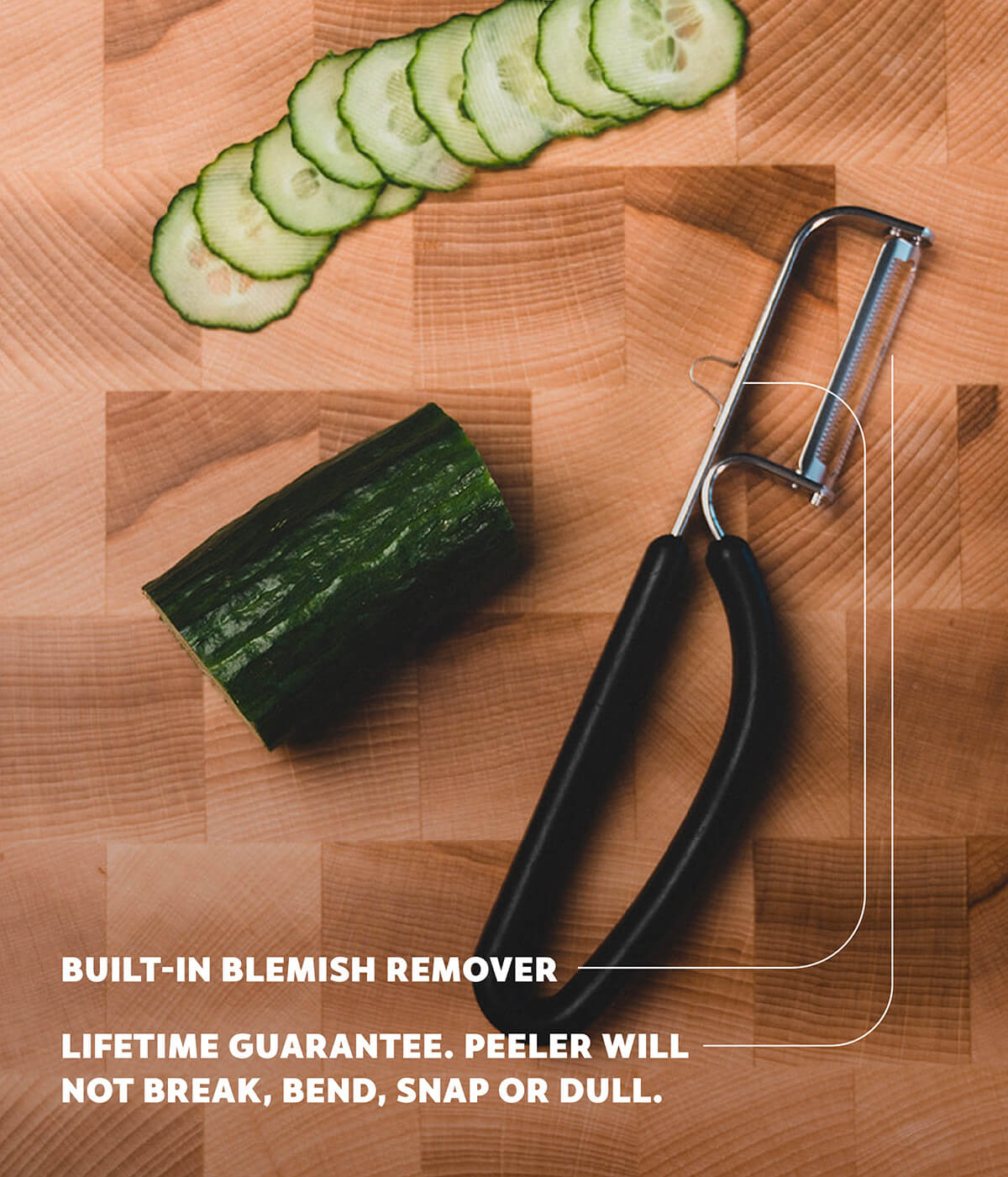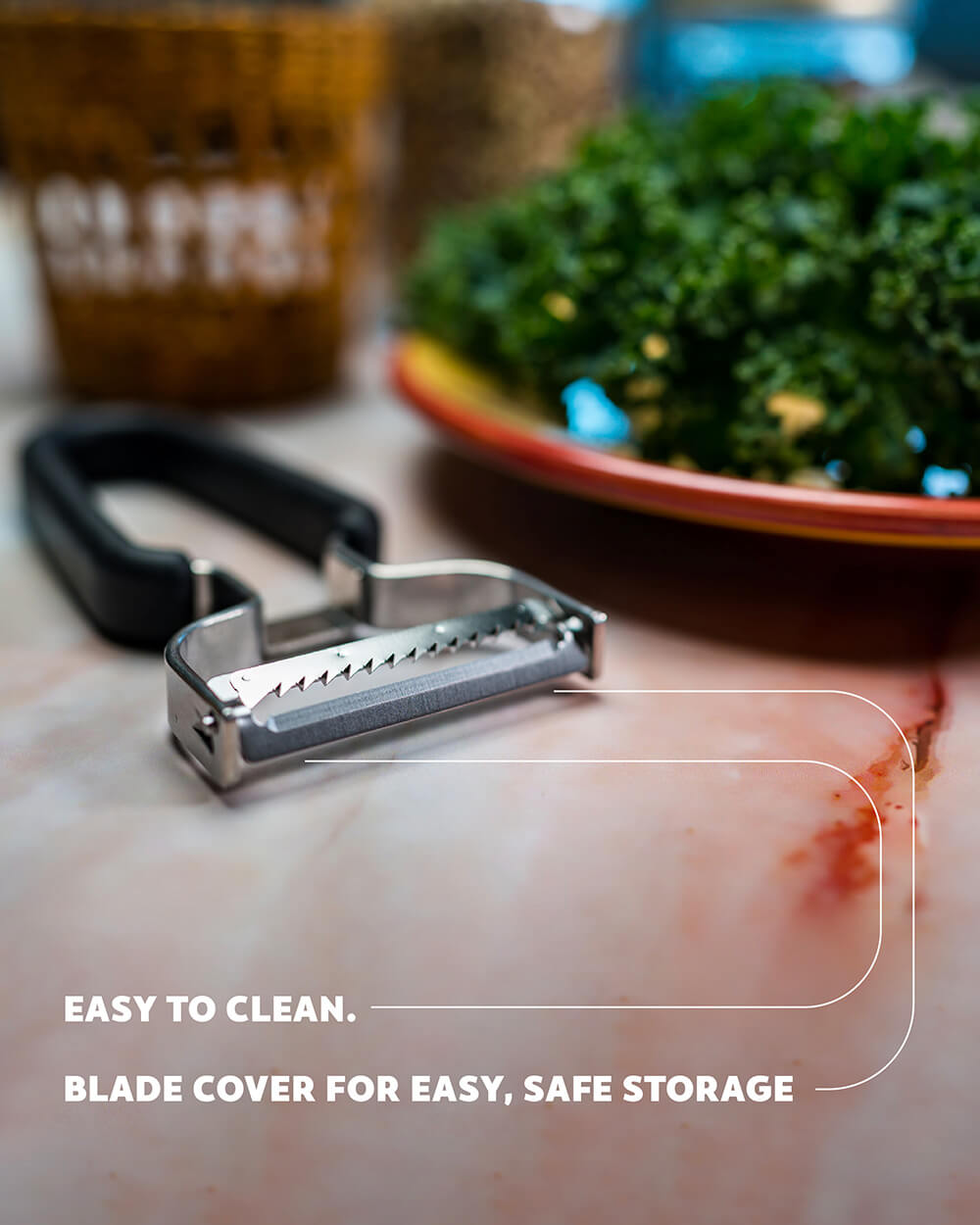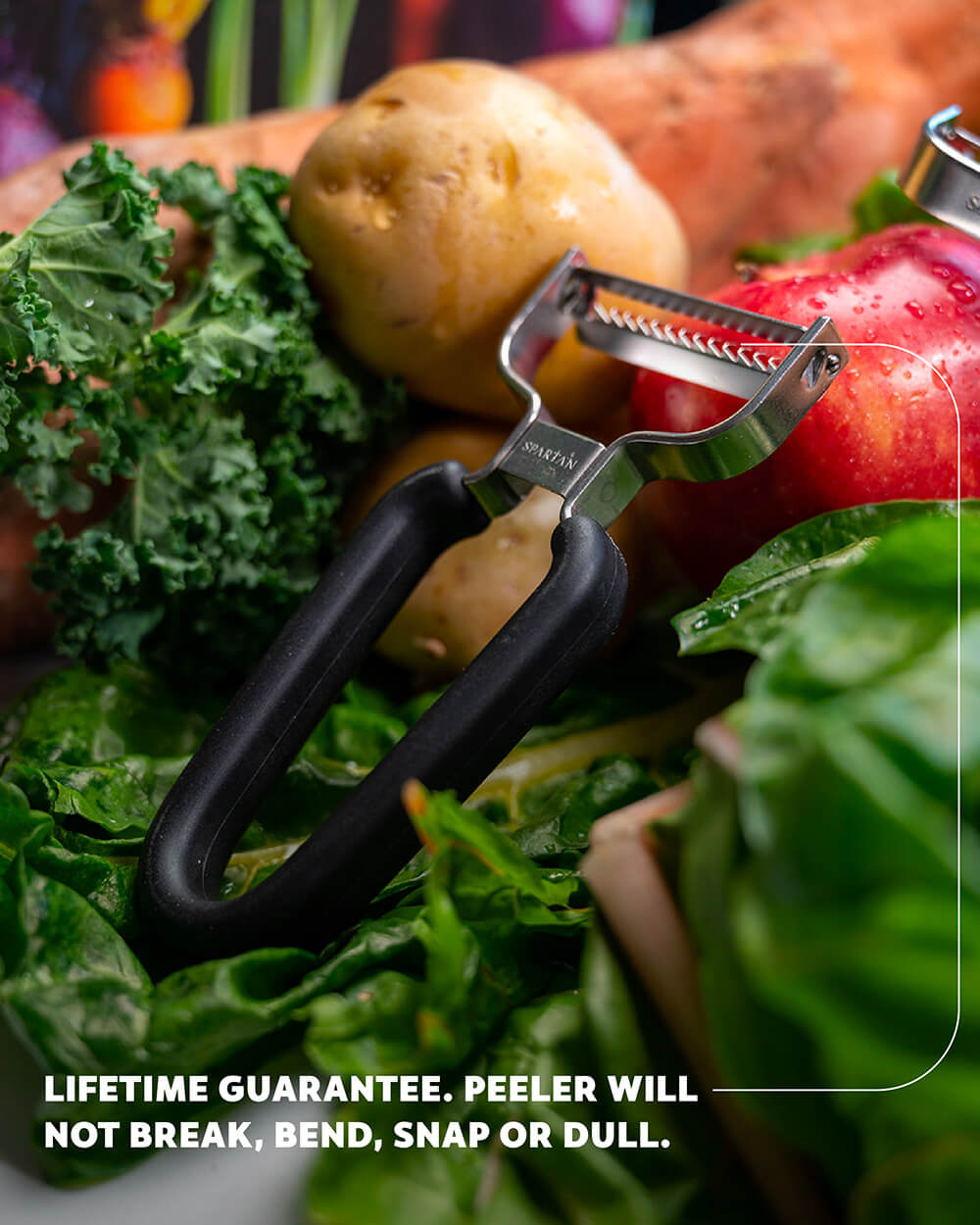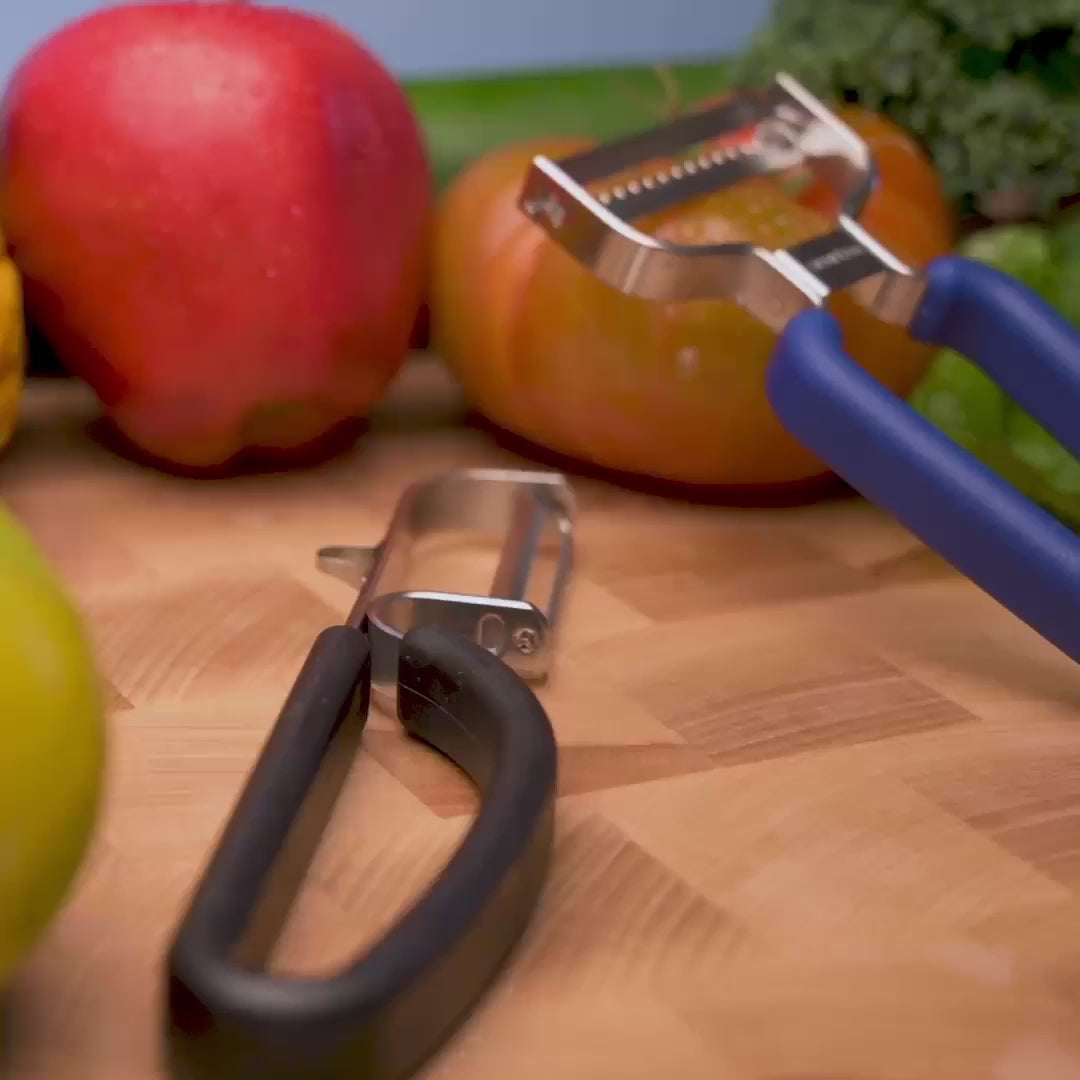 Loving the Duo
I do like good kitchen tools. I have a number of good peelers. My OXO peeler is a favourite; but it doesn't compare to the Spartan peeler. The Spartan feels great in my hand and does an incredible job. I can easily peel red peppers and tomatoes, and mangoes. It's fast and precise. I have been using the shredder to shred carrots and daikon to go into wraps. Love it!
A phenomenal peeler
This peeler is a must-have as it makes the mundane task of peeling a breeze. I am most pleased with my purchase. I love that the peeler peels on each stroke - not just in one direction. A must-have
A lot of times I wonder when you make an on-line purchase if it will ever show up (as sadly sometimes they don't) but this purchase was shipped promptly to Canada without incident. Thank you
Best ever!
Absolutely love the peeler! I've had so many during my lifetime, but none have impressed me more than the Spartan peeler. A 'must have' for every cook!
Now you can up your food game AND save time.
Cuts Meal Prep In Half

Making salad rolls, zucchini pastas, Thai salads, and coleslaws have become that much easier

Sustainable

With no plastic handle and an entire metal core, these tools can last for decades.

Ergonomic Handles

The comfortable latex-free grip is comfortable to hold and resistant to tears and abrasions. Even for those with mobility issues.

Guaranteed Not To Break

With proper care your Spartan tools should last you forever. We actually guarantee it.
FAQs
Do you offer free shipping?

We do! If your purchase is $70 or more and you live in Canada, your shipping is free. Under $70 we will ship your order anywhere in Canada for just $5.
How long will my order take to get to me?

All orders are packaged and shipped the within 1-2 business days. Unless otherwise paid for, all order will be shipped via Canada Post Standard Mail, therefore no tracking number will be provided.

Please expect all orders to arrive 7-10 business days once you checkout. If you would like a tracking number or your order to arrive sooner, please ensure you select that option upon checkout.

Paid tracking estimates are provided when choosing your shipping option.
What if the product I want is out of stock?

We do our best to keep our website updated with ONLY products that are in stock. If we see an order with an out of stock product, we will quickly notify you to let you know when the product will be back in stock, and to process a refund if necessary.
Do you offer refunds?

We offer refunds within 15 days of receiving your order. Please note that all return shipping of your purchase will be paid for by the customer.

Refunds will be returned back onto the method of payment used while checking out.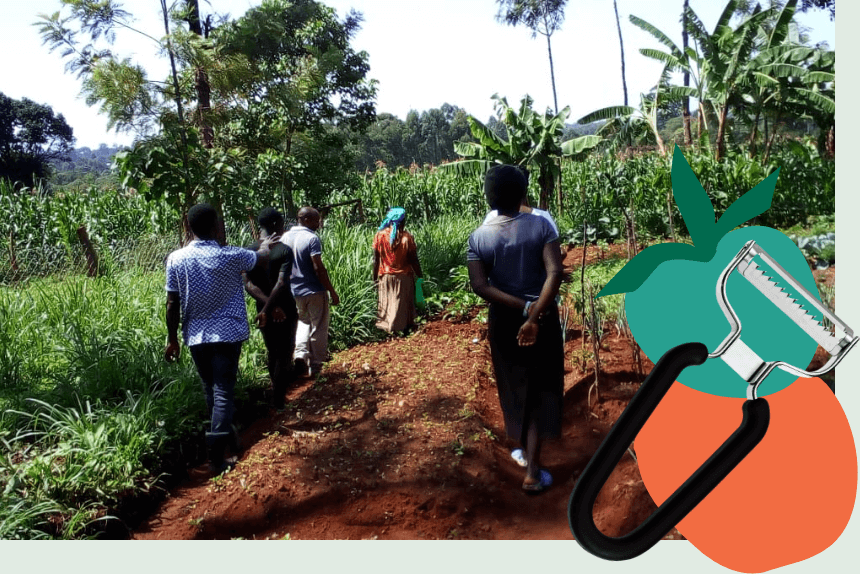 Spartan Kitchen Community Gardens
By choosing a Spartan Kitchen tool, you are helping to provide food for people who otherwise wouldn't have enough to eat.
$1 from every kitchen tool you buy goes to a Spartan Garden and $1000 is enough to feed someone for a lifetime!
Explore Spartan & Thrive Partnership